Making an inspiring and motivating fitness app: Explaining the process

When we think about fitness, we can easily relate this process to wellness, energy, an optimal physical appearance and much more. Wellness apps and healthcare apps are helping busy people stay fit. The biggest issue is that being fit and maintaining the habit of staying in good shape is not easy.
Most people are living extremely busy lives and they drop the fitness routine within weeks because they are not seeing any results. This is why health and wellness apps are playing a major role for fitness purposes.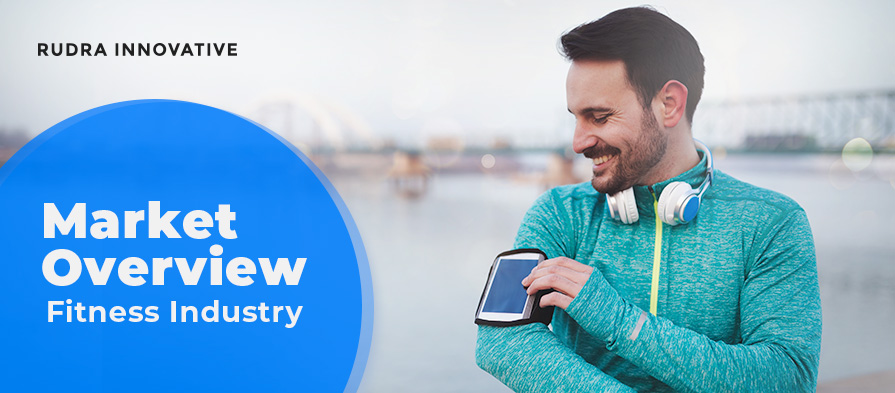 Overview of the Market in Fitness Industry
The demand for this type of application has been massive and the creation of apps for specific fitness to routines and activities has been quite popular. Given that the demand has grown significantly, the need for outstanding solutions is huge.
That demand is the main reason why you need to ensure that your fitness app offers all the features that will help it stand out from the competition. You need to create healthcare apps that offer a bug free experience.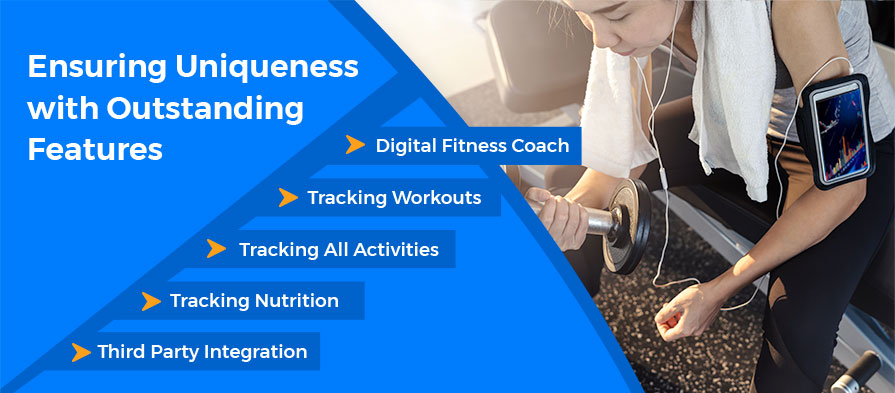 Ensuring Uniqueness with Outstanding Features
You need to take your time when it comes to the decisions you make in regards to the way your application is structured and the kind of features it offers. The following is a list of very specific features that are essential for a fitness app that is looking to cover all the basic needs and demands of modern users.
While this list is not etched in stone, those who are looking for reliable fitness app solutions are most likely to want and require the following features in order to see the best possible results.
A Digital Fitness Coach
There are two Different Ways to Approach this with a Fitness App
A human fitness coach
An AI powered fitness coach
The first one is to have an actual fitness coach that people can hire through the application. This would be a person that is going to be available for the app user on specific hours, or with daily sessions depending on how you schedule your workouts and how much involvement you expect from a coach.
The biggest issue with having an actual coach is that some people don't like the added pressure of having to answer to an actual person if they start missing workouts or dieting goals. This is a great feature for those who feel that they need to have an actual person helping them and making them feel engaged.
When people do choose this type of coach involvement, the app should be able to provide an interface that allows the app user and the coach to see each other on video. This is essential in wellness apps because people want to be able to interact with a professional that is going to remind them of the value of sticking to their workouts.
The second one is a little more complicated and time-consuming in terms of development. The idea is to program a virtual fitness coach that is powered by Artificial Intelligence. This fitness coach could look human, or it could have the form of a cartoon or just be a voice on the app. The purpose of this fitness coach is to encourage the user to get through the exercise program and this can be done by sending encouraging messages and also answering questions via text or even with voice recognition.
The AI-powered digital fitness coach is going to be a very useful option for a wellness app for ios as well as a wellness app for android. While it is going to require more development time and this translates to a larger budget, it does offer some advantages over the human coach.
Tracking workouts
One of the biggest mistakes made by many existing health and fitness apps is that they do not have a robust and reliable workout tracking system. This means that the app should be able to keep a log of all the work you have done, the number of reps, the intensity, etc.
This is very important because it allows the person to see their progress and it also gives the coach the information required to see how the user is progressing. You can create an app for fitness that is sophisticated enough to track movement and actually count the number of reps that a person is doing.
Tracking activities
When an app is looking to be as functional as possible, it should be able to track all activities that the user is performing. By offering geo location, the app can monitor routes, jogs, walks to the grocery store, etc.
The accelerometer is going to count how many steps that person has taken during the day and this is also going to be very beneficial for fitness and workout statistics. When the app can track all of those activities, it provides some great insight on the level of physical activity of each person.
This is why we recommend that you ensure these tracking features when building healthcare mobile apps. Keep in mind that fitness is part of healthcare and a reliable healthcare development company should consider this relevant.
Tracking nutrition
The type of diet that you have when you are trying to become a fit and healthy individual is going to be crucial for your success. There are people who spend many hours at the gym or they workout at home daily and they still see the love handles and can't see their muscle tone.
The reason why this happens is due to their lack of proper nutrition and this is something that a good fitness app should always keep in mind. The best features that you could include are recommended recipes, a large database of healthy food options, fitness grocery shopping lists and diet plans with interactive calendars.
Third party integration
Being able to integrate the app to other apps that offer useful features not include in your app is going to be essential. This is an important consideration that a good developer is going to recommend because it expands the value of the app.
For example, when someone decides to download an app that integrates into yours, there is a good chance they will get to know about your app. Just make sure that your app developers are aware of the value of integration.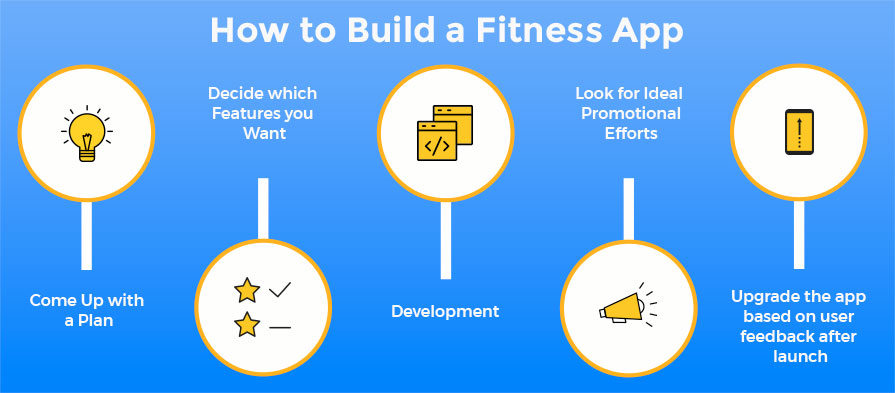 How to Build a Fitness App
Building a fitness app is no different from building any other type of app in the sense that it requires very specific steps. The following are 7 steps that you will always want to consider when you are in the process of building a fitness app. This is something that anyone looking into how to create a wellness app should keep in mind.
1. Come up with a plan
Being able to create a proper plan that defines the work that you are hiring developers to do is very important. You need to think of the things that you want to help solve for your target audience. The fitness enthusiasts and the people who are looking to lose some weight and to feel better about their appearance.
It's important that you sit down with your team and that you are able to define everything that you are going to propose to the development team. If you don't do this, you are going to create unnecessary setbacks when you meet with the developers that you have chosen for the project.
A tip that we would like to provide is that you don't rush into this process just to get the app done as quickly as possible. You need to leave no stone unturned when it comes to what you are expecting this application to look like at the end of the process.
2. Decide which features you want
We already mentioned the features you are most likely to find competitive for a fitness app. The importance of this point in the development process is that you need to define this from the very beginning if you want the project to happen without any setbacks or unexpected changes in length and costs.
Quality software development services are always going to request this before getting started because it is the best way to ensure that the process will happen smoothly. Just be sure to look into software development company policies and specific contract related topics before you begin a project.
Last but not least, you want to avoid any features that are not going to be beneficial or competitive enough for the app. There may be some ideas you will find to be good, but a professional development team is going to give you the pros and cons of all your suggestions to guarantee optimization.
2. Development
The process of development is going to be the most time consuming and there will be many stages to it. This is the reason why it is so important for the development team to have access to all the information and the project plan in order to make this process easier.
It is crucial to hire a reliable developer in order to ensure that the project is going to be successful. Looking for a team with experience that has handled similar projects is very important. There are many developers out there, but not all of them know how to handle certain aspects of working on a project with optimal efficiency.
A good healthcare app development company is always going to take the time to evaluate your needs and guarantee that you can get custom healthcare development done efficiently and with accessible costs.
3. Look for ideal promotional efforts
Marketing your fitness application is going to be just as important as ensuring that it works properly and that it offers everything your target audience needs. This is the main reason why we recommend that you take the time to come up with a reliable marketing strategy.
You could also request the professional assistance of a team that understands the process of marketing an application of this sort. This is going to be very useful and it will ensure that enough people are able to find your application.
When you are involved in any kind of mobile app development process, you need to consider that the marketing aspect is going to be the key to the success if your application. Even top software development is not going to be good enough if the marketing behind it fails to reach the target audience.
4. Upgrade the app based on user feedback after launch
There are many things that you need to consider when you are involved in the process of launching the application to the public, but the truth is that the work is never finished at this point. You are going to need to continue to work on updates as long as users continue to report bugs or issues that they have faced while making use of the application.
It's important to consider that there are no perfect launches for any software. This is true even when the largest development companies work on a project. The fine tuning phase is always going to be part of this process. This is why you can't consider an app development process to be concluded when the app is released.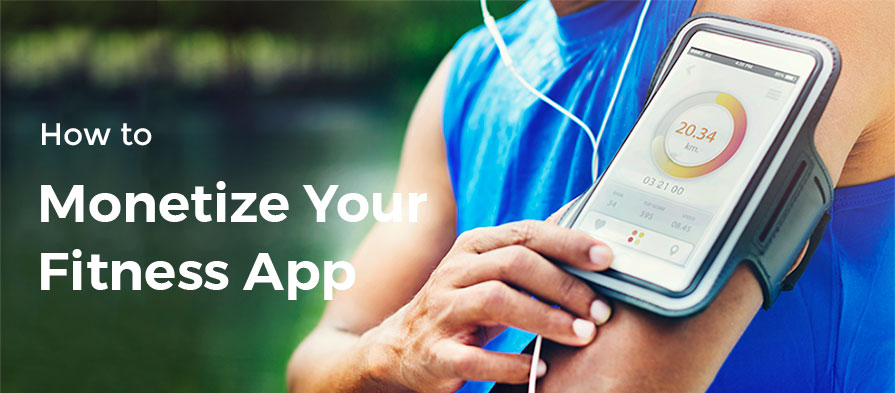 How to Monetize your App
While the purpose of a fitness app is to help people improve their general health and boost their wellness, the idea with this process is usually to create the app to generate profit. There are several ways to do this, but we are going to explore the most relevant.
A subscription based application
This is one the most common ways for any kind of application that is available as a free download. In most cases, be it for a fitness app, a learning app, or even a video game app, there will be a free version with limited features, and a paid version with full features.
Most software development companies that develop apps will go for a subscription based business model. You could do this by offering a limited number of features for no cost, but they can also opt for the monthly or yearly subscription to gain full access to all features and benefits.
Subscriptions are usually seen as the best option because they can be done monthly and this allows the person to invest in the service for as long as they want. You can also offer special deals for anyone who wants to subscribe for longer periods of time.
Ad placement
This is a common route that many people are using for their apps and what you do is offer the app completely free of cost, but people will have to see ads from time to time in different areas of the application or as pop ups. This is a very reliable strategy that can yield amazing results if your app becomes very popular.
The best thing about these ads is that they can usually be related to your niche. In this case, the ads appearing on your app could relate to fitness and wellness. This is going to make the experience less intrusive to the user and it could lead to some add conversions, which means more profit for you if the ads are clicked.
Integrated store
A fitness app is a perfect opportunity to sell fitness related products and you could have section that allows people to purchase physical goods directly from your app. The items could include sportswear, vitamins, protein shakes, etc.
The best thing about this option is that you have a large number of options that fit the niche and this means it will be relatively easy to find things to sell that your audience will find appealing. This is why the integrated store is an excellent way to make the most out of your fitness app.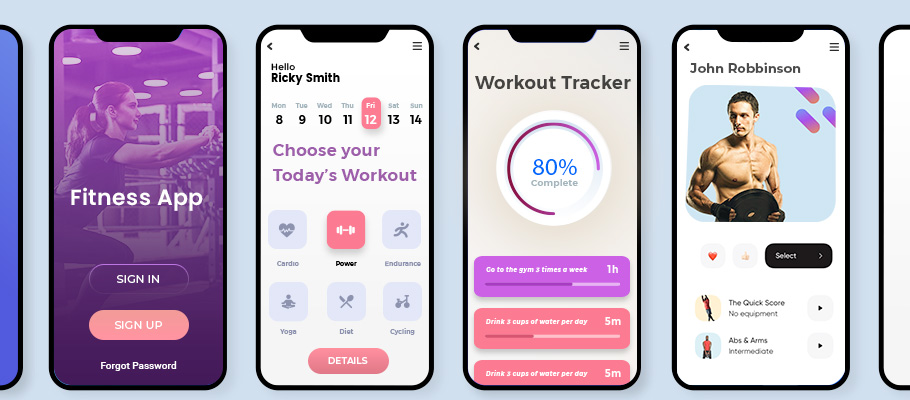 How Rudra Innovative Technologies can help you in this process
You need to look at the fitness app as a project related to wellness and this means that you have to look for a truly efficient development team to create a wellness app. This also falls in the category of creating a healthcare app, so it is essential that it works as intended and that it provides results that justify the investment.
When you hire Rudra Innovative Technologies, you will be working with a team of people who understand how this process works. We will start by creating a core plan, looking into requirements and analyzing them and then establishing what kind of technologies are needed for the application.
Once this is established, we will start the design process, with wireframes and mockups, followed by the development of the application features and backend. We are going to examine the code and validate it in order to ensure optimal performance. This is followed by rigorous testing and eta user feedback with the use of detailed vulnerability and bug reports.
When you are looking for a reliable wellness app development company, you should always choose a business that has broad experience in app development in other industries and not just in fitness. We have been in this business long enough to know how to handle this intricate process for your specific needs.
This is the reason why we are seen as a great option for app development services when you need a reliable team that can help you make the most out of your investment. We are going to work hard to ensure that your app has a competitive place in the healthcare app development world.
Frequently Asked Questions
Can I create wellness apps for my business employees?
There are no limitations in terms of the kind of content you can create or the audience that it targets. We can help you build the ultimate fitness app that is going to be developed exclusively for your employees. There are no limitations to the level of customization you can request.
Will my app compete with the Best fitness tracking apps?
When we create your fitness application, it will be developed with the highest quality standards expected in the industry. This means that you can rest assured that the fitness app is going to be highly competitive and that it will give your target audience a great experience.
Is it possible for the cost to be much higher than the estimate?
When it comes to app development, estimates are not likely to reflect the final price, but the difference should not be much higher as long as a proper plan is laid out and no extra features are requested once the project begins. The fitness app development cost varies and depends on too many factors.
How long will it take for a fitness app to be developed?
The wellness app development cost is going to depend on several factors that can be measured without having a proper layout of the expected features. The average length it takes for an app to be developed for the fitness niche with optimal features can range between two to six months. In hours, you can expect around 600 hours for a basic app and up to 1800 hours for a complex app.
Is healthcare software development profitable?
Like most other industries, healthcare is a very large and profitable niche to look into and the fitness world is just one of the many branches in healthcare mobile app development that are becoming quite popular. This is why we can say that fitness apps are a profitable niche.
What is a budget template?
Some people may want to be aware of the commonly requested features for an app and the many details that are mentioned in the process of creating it. The app development budget template will help you look into certain things you may be forgetting about when you request an app development estimate. This is also known as an app development estimate template.
Do I need both iOS and Android apps to enter the market?
Need is not the right word, but this is the best way to ensure that you can reach the largest number of potential users. This may be more expensive and time-consuming, but it is always the best way to enter the market with optimal results.
Can I build an MVP for my fitness app first?
Sometimes building an MVP for your app is going to be the best way to ensure that you can test things out and see if the results will be optimal.
Can I monetize my app?
There are plenty of ways to monetize this type of application as we mentioned earlier in the article. You can do it via ads, or by offering subscription based features amongst other strategies.
What is the first step of getting started with my fitness app?
The first step is to decide the kind of features you want your app to have and this is going to be the core aspect of the project.