Retail Industry Web & App Development Services
Due to the Internet development, retail has been moving to the web for more than a decade. We are a vital part of this process, serving retailers to
get into the e-commerce world. Statistic says that in 2017 e-commerce constituted 10.1% of all the retail sales worldwide. This figure is expected to
reach 15.5% in 2021.
Also, In 2017, retail e-commerce sales worldwide amounted to 2.29 trillion US dollars and e-retail revenues are projected to grow to 4.48 trillion US dollars in 2021. Promising, isn't it?
Mobile e-commerce is expanding, too. In 2016, it acquired almost $116 billion, and in 2020, it is predicted to get around $336 billion. We believe that it is a big market for the business to grow and are eager to help make shopping digital and mobile.
As buyers become more demanding, marketing consumer products require going for a change to manage all the emerging challenges and also match market opportunities as they come up.
A smarter shopping experience gives an integrated, informative and bizarre customer experience – across all channels.
At Rudra Innovative Software, we work in collaboration with you to develop solutions, guaranteeing your business transformation across consulting, application development and maintenance. Our consumer-centric e-commerce model will support you get better shopping experience to your consumers.
Reveal New Business Potential with your
e-Commerce Applications
Follow the modern trends and interests in e-commerce presenting the excellent shopping experience to your
customers. Our solutions include brand unique approaches to optimize customer service and order process
Key Solutions We Offer Are:
Full Cycle ERP/CRM Solutions
Enterprise Mobility
Integration with existing enterprise services & data
Point-of-Sales(POS) Systems Integration
Application Maintenance Services
Product Stock Management & Tracking
Cross-platform accommodation/support
m-Commerce, B2B & B2C
Web Applications/Portals
Inventory Management Solutions
Catalog browsing
Filters and search
Suggestions and reviews
Social media integration
In-Store Navigation
Multilingual support
Multi Currency support
Static/ dynamic banners support
Personalization services
Automated special display
Features of our
e-Commerce Solutions
Functionality, interactivity, scalability, and security are the four benchmarks defining the effectiveness and business power of an
e-commerce application.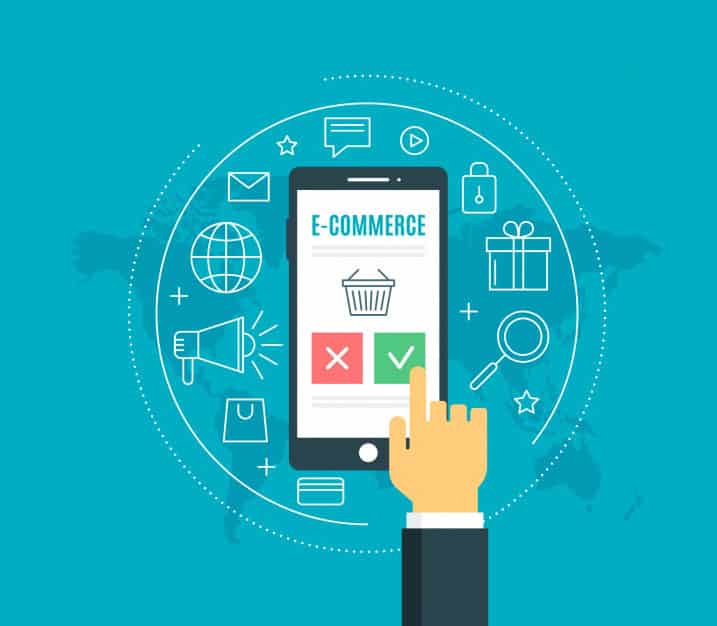 Have you got an exciting project coming up?