A Comprehensive Guide On Airbnb's Growth | Airbnb Business Model And Revenue Model

The success of the Airbnb Business Model often makes people wonder. How did it skyrocket to this enormous success?
Even though the idea of renting your property through the online platform sounds crazy. You can't meet the hosts in person and only rely on the information in the app. How do people even trust each other here?
Well, Airbnb's uniqueness made them through numerous ups and downs still it has made history.
What is Airbnb?
Airbnb is an online website founded in 2008 in San Francisco, CA, USA. It works as a bridge that connects two sides.
One side belongs to travelers who need affordable homes. On the other side is the host, who wants to make money by renting their property. Both sides fulfill their necessities, including Airbnb. Airbnb business applies the C2C concept rather than b2b, making it more flexible.
Airbnb's business model: How Does It Work?
Firstly, the host provides all information about the rental house to the app of Airbnb.
Then Airbnb gets high-quality photos of the place.
The traveler visits the website to research the place and its cost.
And the traveler makes reservations online and makes payments without connecting to the host.
Airbnb deducts the commission it charges and pays the hosts.
Lastly, if both sides are satisfied, they give rates and reviews to the website.
Airbnb's Journey – From Idea to YC to $6.4B of funding
Who and how came up with this unusual idea?
The question must be springing to your mind. Let's see how it all started and who started.
Back in the days in San Francisco in 2007, the idea came to reality. Two young people named Brian Chesky and Joe Gebbia (founders of Airbnb) struggled to pay their rent. Somehow, the thought of renting their own home made them make a site called "Air Bed and Breakfast ."Arrangements were suitable, with few airbeds and basic facilities, including breakfast. The ideas succeeded, and they got $80 for each night. That's where they got passionate about starting a business. Later, a technical architect Nathan Blecharczyk (co-founder of Airbnb), also got inspired and joined them.
However, they went through a lot in their initial phase for funding. For that, they started selling cereal boxes of Obama Os and Cap'n McCains. They managed to make $30000 selling which was not enough. But ending up for an interview with YCombinator was like a miracle. Paul Graham, the founder of YCombinator, wasn't convinced at the start. Yet, he gave it a chance since he liked the unique idea. Airbnb got funding of $20000 from YC and never looked back after then.
In 2020, Airbnb raised $6.4B of funding from a secondary market round. It has over 220 countries and regions with 6M active listings worldwide. It earned a total of over $150B, including $13.8K by US hosts alone. The United States has the most active users.
An overview of the Airbnb business model canvas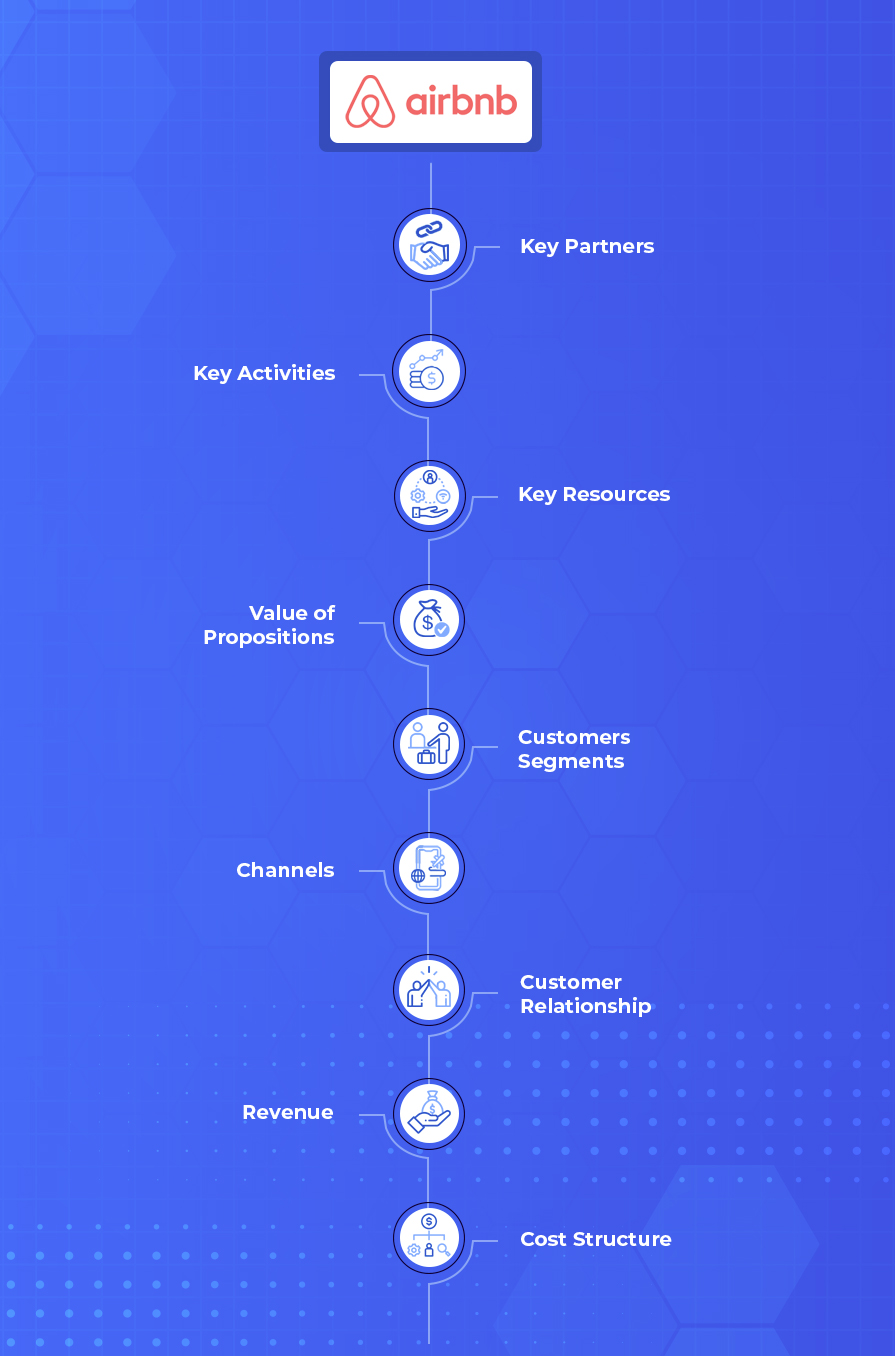 Let's discuss the Airbnb business model first. After that, when you see the canvas, you will understand it better.
Key partners
This involves hosts, tourism communities, technology firms, corporate travel partners, insurance companies, photography services, etc. All these help to build solid support to give the best service to its customers.
Key activities
The critical activities of Airbnb focus on actual progress. From the development of the platform to provide better service. Therefore, sales and marketing, lowering risks, eliminating inappropriate behavior, and protecting information are vital. These support consistency, network growth, and maintenance value.
Key resources
Its key sources are the website, mobile app, content, reviews, and algorithm.
Value of propositions
Airbnb ensures both sides of the party (the host and traveler) get valuable benefits. The value propositions for travelers include choices, affordable rates, and a trustworthy community. And for the hosts, it contains low risk, income, tools, and easy-going transactions. These are vital points any guest or host necessitates.
Customers segments
Airbnb's business model targets both guests and hosts. That's why it needs to go over to find impactful points from both. Hosts can offer rental homes with conditions, like times of availability, check-in, and check-out. They can also reject and mention other rules within the means. Plus, guests can research with the help of the app's filter. They can search about the place, cost, and community.
Channels
Airbnb covers channels like websites, apps, content marketing, media, ad campaigns, etc. With the help of this platform, Airbnb gets to reach its customers.
Customer relationship
The whole relationship has been established through online transactions and interactions. Everything that started online continues this way. The company invests consistently to improve its online facilities. Any bad behavior or deceiving tactics mean elimination.
Revenue
The revenue Airbnb generates is from hosts and guests. It charges 3% of the host's fee and under 14% of the guest's fee. Although, the fee varies depending on the place and property.
Cost structure
The cost structure of Airbnb is investments it makes in activities and channels. These are development, software support, marketing and sales management, salaries, customer service, etc. It also includes legal work and insurance.
Airbnb revenue model- How does Airbnb make money?
Its revenue model is not comprehensive. The model covers only listings and bookings of guests and hosts. Providing a platform on its app or website manages all these. When guests select a property, Airbnb gets up to 10% of the commission. In contrast, it gets 3% of the commission from the hosts' payments. That's how Airbnb's revenue model works and makes money.
An overview of Airbnb's business model in India
Now let's discuss the Airbnb approach in India. Airbnb has seen massive growth in India so far.
Since the culture itself represents the idea of treating the guests like Gods makes, hosts easier to give great hospitality.
Guests also get joyful because each place is different. And each area shows a different culture and history. According to the financial year 2020, total revenue was 687 million INR. They made it even when covid-19 almost ruined 80% of the travel industry. As it's growing well, Airbnb has high expectations. They see the Indian market as a long-term investment.
Moreover, they predict the Indian market to be in their top 3 for upcoming years. It has over 70k listings in India now. The Airbnb business model in India is all about a strong focus on easy hosting, constant upgrades on their platform with localization strategies, and making it trustworthy.
Top 5 Learnings from Airbnb's business model
1. Creative ideas for fund-raising
Airbnb went through hard times for funding. They could've given up, but they kept at it. An impressive idea of selling cereal boxes worked well. While the election of the presidency in 2018 was at its peak. YCombinators's founder Paul Graham was impressed with this idea only.
2. How to find customers who need your solutions
Our young Brian Chesky and Joe Gebbia were struggling themselves. And they knew there were others too who had the same issues. Back then, in 2008, the idea of the internet wasn't popular. Still, they did let go of the opportunity and did everything that seemed impossible.
3. Knowing customers' pain points
Any startup envisions growing faster. But do you know the pain points of your customers? How can you solve them? How can you give them a long last solution? Without this, you can't make people trust you. Offering solutions to their pain points will make them come back to you.
4. Show them results by solving the issues
The idea of "Air Beds and Breakfast" was authentic. Travelers needed affordable homes, and Airbnb had solutions for it. The same goes for the hosts who wanted to earn some money. You show them the desired results by solving the issues from the root.
5. Make them wonder how
It connects guests to the hosts' places. These places are usually local areas. Guests often enjoy the touch of culture, neighborhood, and nature of the local sites. This is something matchless and gives them unforgettable memories. Including something unexpected or having an impactful impression always works like a charm.
A look at Airbnb's future plans
All plans of it are about expansion and customer satisfaction. Moreover, Airbnb's business model Innovations are running, which will give opinions on smart homes. With plans to bring transparency to the guests, they will provide homes according to personal preferences and choices. Guests can choose 4 types of places having local benefits. Those types are Vacation homes, unique homes, B&B, and boutique. Some people want an adventurous place, some want more space for a family with a cooking area, and the list goes on. Airbnb wants to provide property for all kinds of occasions. Moreover, it has announced the offer of beneficial facilities for its program. Visit this website to know better.
Final words for Airbnb's business model
So, now you have the whole idea of the Airbnb business model. It works for both sides, the guests and hosts. For that, it takes a commission, and that's how it makes money. The whole revenue depends on the number of listings and stays.
Startups can learn many things from Airbnb's story. Even its plans are inspiring. By taking advantage of technologies and online facilities, startups of this era can make another history.
Frequently Asked Questions
What is Airbnb's business model?
It supports the peer-to-peer-based economy, which is known as the sharing economy.
What is the type of Airbnb business model?
Airbnb represents an aggregator business model which pulls many markets into one place.
Does Airbnb have a good business model?
Yes, for this era, it is pretty simple and beneficial only because of the way it connects markets on one platform.