All You Need to Know About Warehouse Inventory Management System

Warehouse inventory management is a method of storing, managing, and logistics of the stocks that are stored in a warehouse. This system requires a lot of physical warehouses, materials, inventory, and strategies to operate all the storage systems properly.
This being complex, other important things are to be done apart from storing, managing, and logistics like checking with the supply chain operations and many more. Though this is the typical physical form of WIMS we are talking about, there is also a WIMS software that can be used efficiently.
Operations and logistics in a warehouse management system
A supply chain is a key process in Warehouse Inventory Management System. All the raw materials are collected and sent to the manufacturer or the distributor. Then the finished product is sent to the customer with the help of proper logistics.
By nature, logistics deal with an item's movement and storage. This is crucial for products as every product has different requirements. While supply chain operations deal with activities between separate entities, logistics deal with the movement of goods.
For example, if any drug is supposed to be manufactured at a place and is needed to be shipped to another place, various factors might affect the quality or the span of the drug, like temperature, time of expiry, etc.
For instance, if any food item is supposed to be delivered, the conditions for this are much different from that of the drug. The food has a different shelf life, temperature conditions, etc.
How does WIMS work?
Warehouse and inventory management system is a software that takes care of the storage management, supply chain, and delivery system. Most merchants and companies use an Inventory management system to manage raw materials in manufacturing and handle finished goods for retail. The biggest advantage is that all this process is automated. This is implemented in most of the logistics in the present generation.
Warehouse Inventory Management System helps us check on the stocks and if they are filled up by the time. It also provides reminders on the availability of stocks and checks for any expiration of particular products. This also helps us track all the goods properly and ensure none of the products are missing.
WIMS also gets detailed stock level data and gives proper solutions for product delivery. This includes picking, packing, and shipping activities. The ultimate goal of WIMS is to provide high-quality service at a low cost.
Using WIMS in a company increases logistics efficiency and reduces the manual work as most of the work is automated. The cost of the WIMS is also viable to most consumers. NetSuite provides one of the most used warehouses and inventory management systems.
In the booming entrepreneurial world, most budding entrepreneurs depend on using WIMS to break the traditional management system so that there can be no middlemen so that the cost of many things like storage, and transportation can be taken care of at any place.
Different types of Warehouse management systems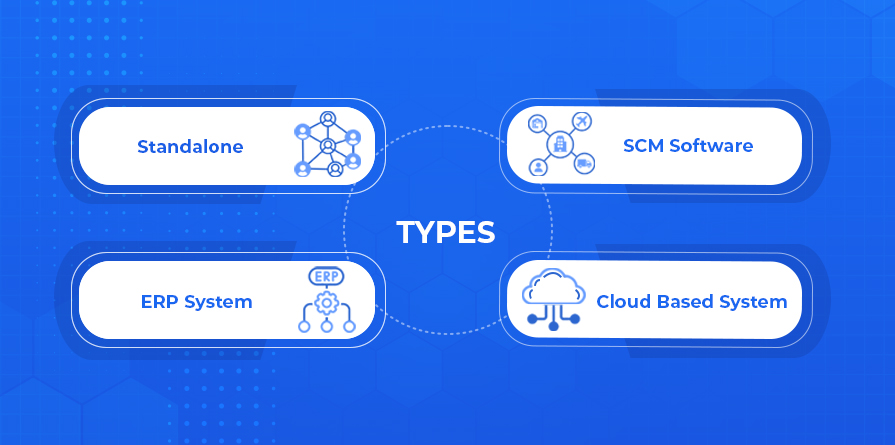 There are four main types of warehouse management systems:-
1. Standalone:- Here, the WMS can provide good day-to-day functions like monitoring and controlling the chain flow and tracking the packages/goods when they enter or leave the warehouse.
2. Module in Supply Chain Management(SCM) software:- Here, the WMS takes care of all the activities required to manufacture and deliver a product, including managing the inventories, transportation, and logistics.
3. Module within the Enterprise Resource Planning system:- WMS, as a larger part of ERP, is another option for warehouse automation. However, these don't provide the same functionalities as the standalone WMS, like distribution in high volumes of cross-docking or unloading products from inbound delivery vehicles.
4. Cloud-based System:- Here, the Warehouse Management System is similar to any other WMS mentioned above, but the only difference is that the cost of all the above-mentioned WMS is more when compared to cloud-based systems as there are no on-premise costs to bear from the company.
Modus operandi of a Warehouse management system
Warehouse Management Systems are designed to simplify the daily operation of the storehouse and are the result of exploration of the functional processes of storehouse centers. They're designed to identify and suggest the least time-consuming results at each stage, from the operation of inbound/ outbound goods to that of drivers, up to the transfer of account data to the Enterprise Resource Planning system.
With a configurable storehouse operation system, it's possible to define the program's functions and conduct grounded on the company's modus operandi and the conditioning managed, automating, and optimizing them.
Similarities in various WMS Softwares
The most generally used Warehouse Inventory Management System software is NetSuite.
However, every WMS software has its special functionalities, but the common features that all the storehouse Inventory Management System Software provides are covering and transferring diurnal reports, controlling the chain inflow, tracking packages, details about the time of entry and exit of a product, real-time force visibility, and other functionalities are added on the base of different software.
Using the barcodes in storehouse operation systems helps us to reduce human error and helps us collect correct data in real-time.
For example, a logistic company like Ekart needs to collect products from different sellers. But the same company must send these products from different locations to all the customers. At the same time, all the customers are at different locations. Now, this is a major problem if there are no logistics companies.
However, at the same time, if the logistics company does not have any proper warehouse and delivery options, the logistics company cannot provide good service to the customers.
Now, after the location is established for the warehouse, the next important task is to ensure that the storage is managed and that there is a proper flow of goods. The warehouse needs to make sure that the goods shouldn't be in storage for a long time.
The storage cost should be less, and various other things are needed. For this to occur, traditionally, there should be many people managing the operating costs and deliveries.
But this problem is being solved with the help of Warehouse Inventory Management system software. At an initial stage, almost most of the man-operated things are automated. This reduces workforce and costs for checking with the other things(like if I need to check with the inventory or anything like that).
Excel warehouse inventory management can help companies keep track of their existing inventory items. Generally, with the help of excel worksheets, it is easy for the users to make sure the product details can be entered into the rows and columns manually to organize stock counts, adjust the values of goods that are sent, and check the availability at the same time.
KPIs for WIMS
Warehouse KPIs help us to set a mark and help us to show the advancements on a yearly basis. This also helps us identify the areas that need further attention and also helps us understand which part directly affects or directly impacts client satisfaction and business costs.
Some of the KPIs are as follows
1) Taking over the cost of force
2) Calculating a specific development rate helps in buying practice and product demand. Inventory development KPIs quantify how numerous times annually the distribution is suitable to go through its entire force.
3) Maintaining a proper inventory-to-deal rate.
4) force loss must be used to cover the loss of the force during any damage, theft, lost particulars, damage during transports, or some supplier fraud.
5) Order Lead Time refers to the time taken for a client to admit an order after it has been placed.
6) Perfect order rate measures how many orders your storehouse delivers without incident.
7) Units per sale is a common metric for numerous businesses as it's a vital process in a storehouse Inventory Manufacturing System.
8) Back-order rate is a process where we can get to know the rate of vaccinating the purchases and force inventories.
9) Cost per line measures the cost of entering the line item on a purchase order.
Though there are numerous benefits of the Warehouse Inventory Management System, the major benefit of all the WMS Software is that there is optimized space and lower operating charges. Other benefits are mentioned below-
10) Accidents per time KPI measure exactly what its name implies.
Benefits of a Management System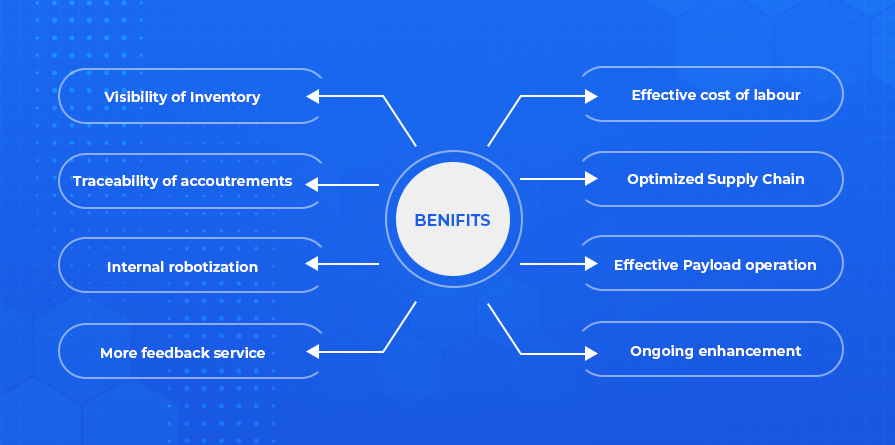 Though there are numerous benefits of the Warehouse Inventory Management System, the major benefit of all the WMS Software is that there is optimized space and lower operating charges. Other benefits are mentioned below-
Visibility of Inventory
Effective cost of labour
Traceability of accoutrements
Optimized Supply Chain
Internal robotization Benefit
More feedback service
Effective Payload operation
Ongoing enhancement
Impact of WIMS on e-commerce
This is the process of storing goods that will be specifically vended online and refers to managing all the processes involved in running an eCommerce storehouse. This includes managing all the workers that work in the storehouse also.
Ecommerce warehousing can ameliorate the delicacy of force shadowing and help misplaced particulars. With the right storehouse operation system in place, this can help you track force development rates and proactively reorder force.
For example, Amazon( an e-commerce website) is the most popular e-commerce website known to the world, where billions of customers buy products online with a click of a button.
Amazon acts as a ground between the buyer and the dealer so that there's a farther reach of products. Now in E-Commerce WMS, the products that are bought on amazon are picked up from the dealer(let's assume at Delhi) and keeps these products in a storehouse so that all the other orders from the same dealer or multiple orders that are supposed to go to a particular destination are transferred in bulk.
This helps with the cost reduction in the force chain and helps with better logistics. If we consider Amazon's Warehouse Management System, it's considered a veritably hyperactive and most sophisticated software where it could handle bulk services.
WIMS softwares that are available in market
1) NetSuite Warehouse Management System
2) Sortly
3) Fishbowl force
4) 3PL storehouse director
5) Softeon
6) Infor SCM
7) HighJump
8) Manhattan Associates
9) TECSYS Warehouse Management System
10) Astro Warehouse Management System
11) Latitude Warehouse Management System
12) Made4net
13) Acctivate
14) Cin7
15) Finale Inventory
How do we develop our own software?
Developing our own WMS software is not a complex task, but many things must be taken into notice.
Though many ready-made WMS exist in the world, there is always a need to make something automated in real life. Until one stage, we thought that nothing can be done in the automobile industry as now cars are made, and people are doing good with cars. It was never about making it work; it was always about improving it. Then the ideas of automation started.
Similarly, the concept of making our own WMS software is dependent on one's personal uses. But some of the basic uses that won't change when we make our own WMS software are as follows:-
Designing of the storehouse/warehouse
Inventory Tracking
Task Management
Dock Scheduling
Items Receiving and put-away
Pick and pack process
Shipment procedures
Improvement measures
Optimization of goods locations
Order fulfilment
Cycle counting
Asset tracking using barcodes
Gathering and generating reports
Conclusion
In the end, though each warehouse inventory management system has its qualities and special capabilities, it is upon the user to know what facilities are required(it can be standalone or cloud-based, or any other form of warehouse inventory management system).